Volunteers
Without volunteers we would not be able to do all the work that is necessary to run our shelter. We are very grateful for our volunteers who make it possible for us to take care of all the animals in need.
Your help as a volunteer at the shelter is extremely valuable to us. There are many ways to help us either in the cat house or with our dogs. If you have some time to spare during the week or on weekends we have plenty of jobs you can assist with!
Walk a dog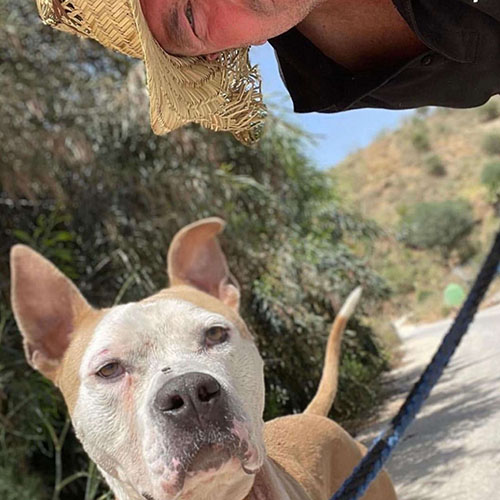 On Saturdays we take out all of the dogs for long and stimulating walks.
If you would like to join the us for weekend walking, please send an email to voluntarios@tripleamarbella.org. Chris, Steffi, Anna and Emma will welcome you at the volunteer meeting point and coordinate the walks, please be punctual and respect the instructions given by the team, the safety and well-being of our dogs and volunteers are our priority so it's important to follow the rules.
Children under the age of 16 must be accompanied by an adult please.
On weekdays we have a morning walking schedule, if you would like to join us for weekly walking please contact Barbara on WhatsApp 670 858 366. All of our shelter dogs get to have daily exercise, whether it's walking with a volunteer, training with one of our staff or running and playing in our patios. We endeavour to ensure that all of our dog enjoy fresh air, stimulation and exercise on a daily basis.
Fundraising
You can help by organizing a fund raising event. This could be anything from a dinner, lunch or dance event, etc. or just having a collection tin in your establishment. Contact us if you have any ideas.
Donate food, bedding and much more...
Please check what we need before bringing items to the shelter, a list of our most needed items can be found on our Amazon Wishlist.
The following donations for our cats and dogs will help us tremendously:
Food: we use Dibaq (dogs), Libra (cats), Royal Canin (kitten & gastrointestinal), Metabolic (dogs).
Sheets, Towels, Blankets, Dog & Cat beds and baskets, please no duvets, pillows or quilts.
Please contact us for details and delivery times, also possible pick up.
Volunteer minimum requirements
✔️Age
Be at least 16 years of age. If you are younger than 16, there are other ways to get involved.
✔️Commitment
Be able to commit to a certain time period of volunteering. Some in-shelter opportunities require a minimum of one regularly scheduled, recurring shift every week or every other week. Shifts are 2-4 hours depending on the assignment.
✔️Follow the rules
Read and comprehend detailed policy and protocol information as well as being able to remember and follow shelter rules.
✔️Communication
Communicate professionally, as human interaction is a requirement of many volunteer roles.
Join us!
If you would like to register as a volunteer at Triple A, please complete this form before coming to the shelter. You must also download and read our Volunteers Handbook.
Every little helps
Any help, no matter how small, is most welcome.